World Earth Day Observed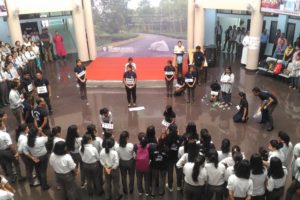 Earth Day was observed with a special assemble organized by the School of Life Sciences at the University's Tapesia Campus on 23rd April, 2018 (as this year's Earth Day  22nd April, falls on Sunday)
Students presented a skit to raise awareness on the importance of changing ourselves to preserve the environment from man-made pollution and destruction. The skit depicted how Earth, initially at peace during the course of its evolution, has become polluted upon the arrival of mankind. The skit acknowledged the need for stewardship to preserve Mother Earth for ourselves and for the future generation.
As a small contribution towards building a clean, green environment the students also planted 75 medicinal plants within in the campus.
World Earth Day was the vision and creation of Senator Gaylord Nelson of Wisconsin in an attempt to raise the awareness and understanding of preserving the environment and is now celebrated on the 22nd April annually.