Visit to Indigenous Brass Metal Industry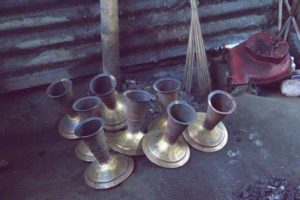 A team from the University comprising of Dr. Sunandan Baruah, Director, Center of Excellence in Nanotechnology and Mr. Vikramjit Kakati, Associate Professor, Department of Mechanical Engineering visited the brass metal traditional industries in Boniakuchi of Barpeta district in Assam.
The Ministry of MSME through the Indian Institute of Entrepreneurship has selected ADBU as a Technical Agency to help revive the traditional industries of Assam. The team observed that the artisans are still working using age old techniques and under adverse working conditions. ADBU will come up with a proposal to introduce low cost machinery to boost production and improve quality of the finished products. ADBU plans to design the instruments in house. It also plans to carry out an ergonomic survey to ensure healthy working environment for the workers.