International Conference on Education
An international conference on 'Reimagining Education Connecting Vision, Context and Curriculum: A reference to South East Asia' was held on 12-14 March 2015.
The conference was inaugurated at the University's Conference Hall, with Prof. Dipak Kumar Sharma, Vice Chancellor of Kumar Bhaskar Varma Sanskrit & Ancient Studies University. The keynote address was delivered by Prof. Hari Prasad Sarma, Rector, Gauhati University.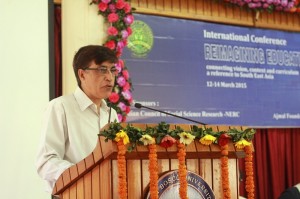 The conference, organized by the University's Department of Education unfolded in six technical sessions covering two and a half days. There were 30 research papers presented during the conference.
The first session was chaired by Prof. Gayatree Goswamee. The central theme of the session was on Reimagining Education Reform. 4 scholars presented their papers, which was followed by elaborate discussions and deliberations on each paper.
The second session, chaired by Prof. Nissar A Baruah had a theme 'Reimagining and rethinking education'. During this session 5 papers were presented and sufficient time was given to each paper for discussion and clarification.
The third session dealt on the theme Educational Technology: Present and Future Prospect. The session was chaired by Prof. Jagat Swargiary.  During this session 4 papers were presented and elaborately discussed upon.
The fourth session was on the theme 'Student teacher Interaction in the classroom' chaired by Prof. L.R. Saikia. During the session 6 papers were presented and was followed by discussion and clarification on each paper.
The fifth session was on the theme 'Educational Dynamics of the 21st Century'. The session was facilitated by Dr. Riju Sharma.  During the session we had 6 scholars presented their papers. After each and every paper was followed by discussion and clarification on the topics presented.
The sixth session was on the theme 'Psychological and Moral Development in Today's World'. With Dr. Gautam Sarma chairing the session, this seession had 5 scholars presenting their papers. Each paper was accompanied by a discussion and clarification.
Some of the points that came out from the discussions are:
ICT is crucial for learning but to facilitate this, infrastructures along with supply of power are essential.
Moral education should be given equal important like any other subject.
Skill development should be incorporated in different subjects.
Gender equality and change of perspective in education are need of the hour.
Cultural intelligence must be cultivated among the students and teachers alike
Re-structuring classroom and student friendly environment need to be given due consideration
Holistic and all round development of students need attention
Awareness and Empowerment of children with special need in our educational institutions and society at large need special focus
To make our region a hub for education
The Conference was concluded on 14th March with a short valedictory function where Prof. Dilip Baruah, the Chief Guest, delivered a speech on the theme of the conference from the Economics perspective.